Nobody enjoys speaking to new prospects who only see you as "just another builder". It adds unnecessary friction to the customer journey. It would make your life easier if they were a little warmer either when you got to them on the phone, or even meet with them in person.
The truth is when you are up against another builder who has already built rapport with a consumer through their content marketing strategy then you're already second choice and that means you'll only be signing up clients who are looking for the best possible price for the job.
So the question is this; are you prepared to drop your prices in order to "win" a job or would you rather speak to prospects who are already convinced that you are the right builder for the job and who are prepared to pay more in order for you to build for them when you deal with them?
Option 1 doesn't sound like much of a win, as you are compromising your integral and perceived value in the short and long term.
Short Term Cost Implications
In the event you slash your prices by 10% when you are making about €100,000 per year as a small contractor you are losing out on an additional €11,000 per year. It might not seem like much, however the long term implications to your finances are much are much greater.
Cheap clients also tend to compromise on quality, and will often point any blame on you, the contractor, for any quality control measures you have put in place to manage your expenses, and in term costing themselves long term benefits of a better built construction, which could have lasted sufficiently longer or have reduced maintenance costs for years in perpetuity. The costs to you is that it can lead to administrative headaches in chasing follow up requests and invoices, and possibly leave you short changed by the settlement of the final account
Long Term Cost Implications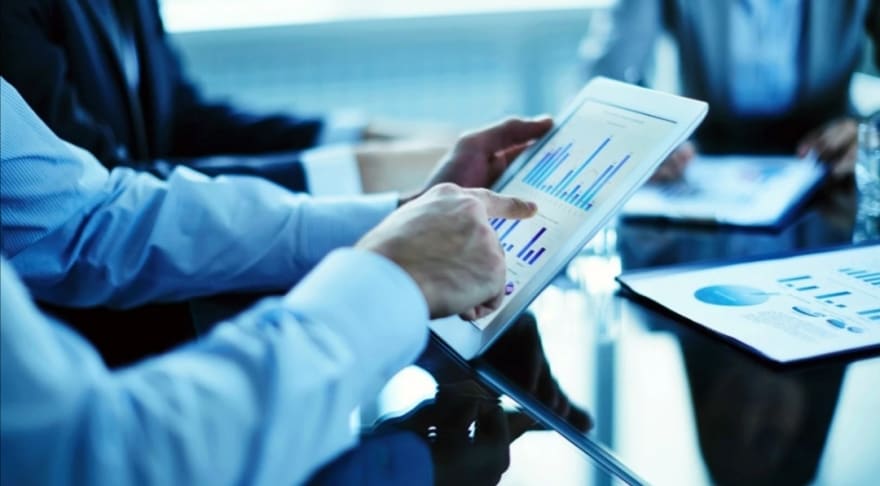 Long Term Cost Implications of Cost Leading in Construction Companies
Your company which could have been better used to grow your company by hiring more employees or boost your annual net profit as a business owner. Taking the example of the loss of €11,000 per year, over the period of 20 years that is about €220,000 that is being lost by the company by simply taking jobs on a lowest tender basis.
Additional long term implications are that cheap clients often do not produce long lasting relationships that can be used to grow your network and they do not produce customer loyalty. Most importantly, cheap clients tend to be once-off clients but can continue to slander your company if you run over time, over budget, or both. This can reflect long term damage to your brand and could stall your companies growth in the long term, affecting your ability to secure future contracts from new customers who evaluate a companies competency by the opinions of previous customers.
How to Secure Warm Prospects
Warm prospects can generate more contract opportunities than you actually need which means you can choose who you want to build for. All you need to do in order to create better leads and opportunities is to implement an advertising strategy called "Content Marketing".
What is Content Marketing
Content Marketing can be described as a "strategic marketing approach focused on creating and distributing valuable, relevant, and consistent content to attract and retain a clearly defined audience — and, ultimately, to drive profitable customer action." (contentmarketinginstitute.com) it is designed to inform and help people who are in need of relevant services of your profession (or niche) and implicitly put your business front and centre as a practical go-to consultant, practitioner, or company.
According to HubSpot, 43% of consumers admit to skimming blog posts so if you want to put your building company front and centre with more consumers in your local area and become known as the go-to builder for information you need a content marketing strategy. Once you've decided to utilize content marketing as a strategy for your building company what you actually write about is the easy part.
How to Come Up with Ideas For Content Marketing

One of the easiest methods to get started with content marketing is to cover off the most frequently asked questions your company receives from new prospects and the best way to determine that is to get your team together and spend a few minutes to note down all the questions you've been asked by new prospects or even your clients.
For example, was there some builders jargon or slang that appeared very unclear to them? Have you been dealing with consumers who want a custom-designed home but are asking a square foot price instead of a square metre rate? Have you any tips to share on designing a new home based on your past experiences? Are you using a new technology to speed up or reduce the cost of construction that prospects might be interested in knowing?
All of this information that's currently inside your head is gold and you can make use of it in so many different ways. you can use it as an article to create engagement with prospects that have never previously heard of you and if the thought of constantly writing new blog articles every week doesn't appeal to you then the good news for you is that creating blog articles or any form of content does not have to be a weekly chore. Once you've produced any form of content you can reuse it over again in many different ways for years to come.
Types of Content
The Written Word; Blogs, Social Media Posts, News Articles:
The written form of content marketing is designed to be a more trusted authority that is primarily designed to inform and assist the end user when they are considering solutions for the type of problem that they have. These types of content are usually presented in the form of longer blog posts on the companies website, shorter from posts on companies social media, or longer news articles in associated magazines, broadsheet newspapers, or industrial bodies.
Blogs

Blogs are designed to be accurate and informative to the end user and by the end of the post it should have provided a series of solutions to the problems or the concerns of the prospect. Blogs can either be posted onto your own website or if you are part of a greater network of smaller companies that work together, you can create guest blogs that will redirect back to your company for additional information.
Blogs, especially in the professional services sector such as construction can take the appearance of an essay or a definitive guide, and as such, it needs to be accurate, appropriately referenced, have a summary and be concluded in an appropriate manner. As a professional service, the appearance of the blog can be defined as dry but helpful, unfortunately there is not much room for creative scope here as you are primarily limited to information that must be real and true.
It is appropriate to have the occasional light-hearted article in the mix of informative articles, possibly discussing any reflections you have about your company, any awards, certifications or credentials that your company has obtained, any new employees that have joined your company, conferences or networking events that you might have attended, any high value projects or clients you had worked with, or anything light-hearted as long as it directly involves your company or a representative of your company.
Social Media Posts
Social Media Posts are designed to be short and snappy to the end user and by the end of the post it should have invoked a feeling of interest or vocal proclamations of "hmm", "ahh", or "ohh" followed by a "That's Interesting", "That Looks Good", "That Makes Sense" or a "That Seems Relatable" to the prospect.
Social Media Posts and their layout vary widely depending on what the focus of the media is. Most social media support photography on their platform such as Facebook, Twitter, LinkedIn, Instagram and YouTube.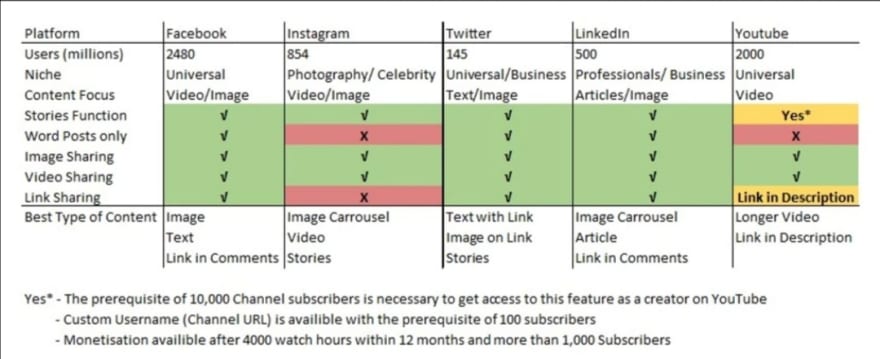 While the comparison of the various social media and the sizes of the various images and videos can look initially overwhelming, most of these sizes are compatible with one another and therefore you will not need to spend many hours resizing social media content. Most of what can be produced can be shared between all the various social media. With social media, you have much more scope for creative individuality compared to other forms of written media as the half life for content expires much more quickly than other written forms, but it is still important to ensure that information is accurate.
The most important take away is that the content that is produced on social media has meaning and value to the end user. That way, people are more likely to engage with it. Another important takeaway is that if you are sharing content as a link it is better to add a link to a post as a comment on that post. Social media prioritises content that keeps the user on social media.
News Articles
News articles will drastically improve your credibility however they are difficult to get mentioned in unless you are part of a high profile project. Another drawback is that you have very little creative control over the written form of the content and that it is possible for some of what you say to what the reporter asks can be taken out of context and cause possible damage to your company.
For this reason, if for any reason you are going to be mentioned in a news paper or another periodical, it is imperative that you only disclose what is permitted to be disclosed, and that you make sure you are clear regarding the subject being discussed. Broadsheet newspapers are considered to be much more articulate and tells the audience what the news is whereas tabloids will often sensationalise matters and use loose language to add deniability to their articles if they are fact-checked. Both have varying audiences that your business can tap into, but it is important to manage print media in the appropriate manner
If you are expecting to make headlines, it is better to produces a media statement and stick with it and add your business contact email to the footer for any further media enquiries. That way it will allow the media to contact you and ask further follow-up questions in the written form and allow you to compose an answer that is fit for print if you chose to respond to them.
It is also very important to request a draft copy of the article prior to print that way you can highlight any objections you have with the reporters work with the editor and cross reference it with the public statement to ensure clarity and context, that way you can protect your brand from any negative exposure.
Listen to us: People like Audio Content
Podcasts
Think about your ideal client who reads dozens of pages of documents daily, and interact with hundreds of forms of media on a regular basis and many work 40+ hours per week and its very easy for them to skip over your content every now and then because they are simply too busy. Just having something for people to listen to in the background can be relaxing for them and if they perceive something of value in what you are saying they will tune in with a greater level of focus.
Podcasts can mainly include the likes of interviews and monthly catch ups with industry peers. Podcasts can be formal roundtables discussing something of industrial importance to informal talks, and the best part about podcasts its that they can be recorded like videos and placed on YouTube and other social media, and the best parts and important information can be transcribed into written articles for your own blog, making them highly versatile.
Podcast listenership is up approximately 37% last year and shows no signs of slowing down (you can find out more statistics about podcasts here). Even if you don't want to create a podcast, you can always take part in a podcast as a guest or sponsor, but it is important that people on the podcast know who you are or what you represent, that way you're more likely to be found online.
Watch Out: Videos Dominate the Space
Videos dominate the content marketing landscape as they are easily digestible for the user and can be reoffered to again at any time to give a more generalised overview of a particular problem. The utility of videos is that it can reference other more detailed videos of a particular issue that people would want to find the answers for, or alternatively, you can redirect the viewers back to other forms of written content that will provide additional information to their questions.
"How To" types of content often have lower but more engaged viewers and they tend to interact with the content on a much deeper level than conventional company marketing videos.
As mentioned above, it would be an idea to record your podcasts or interviews and have them presented in video format and written format to add to your portfolio of videos. With a small bit of tweaking, you can compile the videos into relevant playlists for the users to digest in a continuous format. You can continue building rapport by creating a talking head video and use that on Facebook and YouTube to generate more leads.
In Summary, Conclusion and Free Bonus
To summarise this blog post, there are multiple ways that you can produce content for your company in your spare time and seemingly endless topic to choose from that you can utilise to your companies competitive advantage. you can look to writing articles and submitting posts through social media, but you can also take advantage of more engaging methods of content production such as creating video and joining podcasts!
You need to produce and reuse your content over and over again in many different ways because you can can send the same article to your contacts on your database through emails, posts, articles, videos, and many more opportunities and different channels where you can put your content to work. It really is an asset that adds value for years in perpetuity to your construction company.
If you think only large companies can produce content then you need to think again. content marketing has now become an essential strategy for building companies of all sizes including start-up companies. It's such an important strategy for every residential home builder that we decided to create a brand new step-by-step action plan and checklist covering a builder's content marketing strategy.
We show you step-by-step how to build trust and authority without needing emailing or speak to prospects directly, and it even includes a free cheat sheet so you'll never be stuck for something to say and you will discover how to increase your construction companies brand and value by providing genuinely helpful information that prospects can relate to and trust. As a result, you will be known as the company that looks after their clients rather than "just another builder" and be dealing with the prospects who are genuinely interested with building with you meaning you can avoid having to compete on price.
and you'll be able to choose from many different ideas so you will never be at loss for an idea when you use content marketing in your construction company you'll be speaking to convinced prospects who are prepared to pay more in order for you to deliver for them and generate more clients than you need meaning that you can be selective with the type of projects you undertake, whether you want to stick to your core competencies, or if you are looking to diversify the type of projects you wish to undertake. In all cases, it will leave you with the ability to choose who you build for.
Everything you need to know is included in this step-by-step action plan so you can create several pieces of Content Marketing from a single idea in less than a few hours
Click on the link below to learn more about the construction companies content marketing strategy step by step action plan.
Click Right Here to get your guide for free!
If You Want To Receive More Information about Content Marketing for Construction Contractors, Contact SJP Consultancy to Schedule a Free Consultation Call by sending us an email to info@sjpconsultancy.com where we can Free call through WhatsApp or Zoom Chat and get you on track with Immediate Effect.