Creating healthy plumbing design for healthcare facilities is crucial to ensure the highest level of patient care. To achieve greater standards for healthcare facilities, plumbing designers need to make sure the requirements for locations, piping sizes, fixtures, etc. are met.
3D BIM models easily coordinate and collaborate architectural, structural, MEP, and HVAC systems by identifying and resolving clashes during the initial stages of construction, thereby saving cost and time due to rework. Plumbing design based on a coordinated BIM model can help designers enhance accuracy, save time and cost, and optimize plumbing design to mitigate conflicts.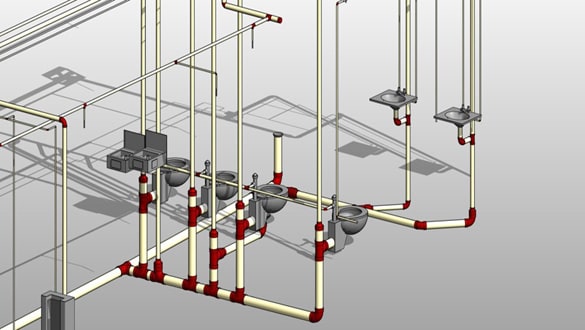 Present-day challenges with hospital plumbing design and construction
While design coordination is crucial for any built environment, healthcare facilities often face a number of challenges.
Maintaining various plumbing equipment such as sinks, toilets, showers, drain systems, waste-water lines, etc.
Water conservation
Minimal patient cross-contamination
Use of high-quality and corrosion-resistant plumbing fixtures for concentrated chemicals
The business need for a healthcare facility in Sydney, Australia
A hospital project in Sydney, Australia required a 3D BIM model for maximum functionality based on an optimized layout and high-performance hydronic equipment. Hitech CADD Services was approached by a design drafting company from Sydney.
The required deliverables –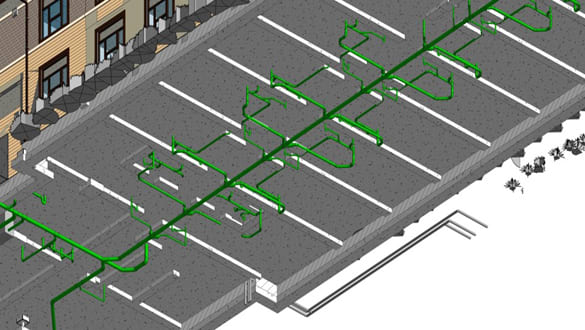 Hitech CADD Services is a multidisciplinary BIM services provider that incorporates digital transformation across the building lifecycle for better constructability. With expertise in MEP BIM modeling using Revit MEP, the team understood the client's needs and requirements and studied the inputs provided by the design drafting company required to initiate the project.
Inputs from the client – 2D Plumbing Drawings
The series of challenges encountered for the hospital construction project
Keeping the design and flows parameters intact whilst accomplishing coordination and modeling
The use of 2D drawings to coordinate and build a clash-free 3D model
Coordinating various trades like architecture & structure for required equipment clearances and making the deliverables clash-free for streamlined installation
Solving the challenges with a proactive and efficient BIM approach
The team of experts at Hitech CADD Services used BIM workflows and tools to navigate around the challenges to achieve the most efficient outcomes possible.
The first crucial step was a complete and careful analysis of the 2D plumbing drawings provided by the client. Mindful investigation of the drawings helped the engineers – filter out ambiguities, get answers to unresolved queries, and achieve better project clarity.

Taking it a step further, the 3D BIM model was built through precision design analysis and proactive identification of clashes between various disciplines such as architecture, structure, MEP, and HVAC.

With the identification of clashes complete and every interference resolved in Navisworks followed by a detailed report, the 3D coordinated model was generated.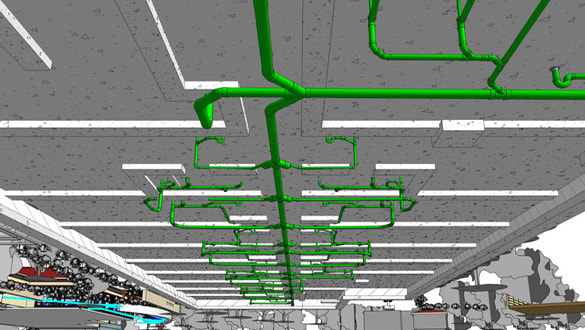 The final deliverables provide seamless & clash-free plumbing installation
The final coordinated 3D model was quality checked at various stages and was handed over to the client. The model with LOD 300 took visualization to another level giving the client.
complete project vision on the hospital drainage systems for the upper floors and underground levels
make informed decisions based on a single solution for plumbing fixtures, insulation details, and more
The BIM experts at Hitech CADD Services worked closely with the client to achieve required deliverables at pinpoint accuracy. It is the value that BIM delivers for Healthcare construction with quick conflict resolution, multi-stakeholder engagement, reduced onsite time, etc. that determines a seamless project handover.
Authored by:
Harika Singh is a Sr. Content Specialist at Hitech CADD Services. Her work experience of over 20 years in institutes of repute across USA and India has enabled business stakeholders to achieve high operational efficiency and scalability across the board through comprehensive digitization.